DISC INTEGRATION METHOD TO DETERMINE THE VOLUME OF A ROTARY OBJECT TWO DIMENSIONAL
Abstrak
Integral is a concept of continuous addition in mathematics. In the problem of calculus, integral include the main operations used in calculations. One of the integral aplications in real problems is to calculate the volume of a rotating object. The object is 2 dimensional object than is rotated be 3 dimensional based its rotary axes. The first step is to draw a graph or curve of an equation given in the Cartesian plane and its boundaries. Then determine the concept of rotation about the y-axis or x-axis. Furthermore, one must be able to understand well the steps in calculating the volume of rotating object with an integral
Referensi
Abadi, Maulfi Kharis. (2020). Respon Mahasiswa Terhadap Pemanfaatan Aplikasi Geogebra pada Materi Aplikasi Integral. Jurnal IAIN Kudus. ISSN 2615-3939. http://journal.stainkudus.ac.id/index.php/jmtk
Canzian,E.P. et al. (2022). On The Application of The Double Integral Method With Quadratic Temperature Profile For Spherical Solidification of Lead And Tin Metals. Elsevier : Applied Thermal Engineering Vol 219. https://doi.org/10.1016/j.applthermaleng.2022.119528.
Harini, LPI, and Sari, Kartika. (2020). Aplikasi Integral Dalam Bidang Ekonomi dan Finansial. E-Jurnal Matematika Vol. 9 (2), Meil 2020. Pp. 143-148. ISSN 2303-1751.
Imaniyah, Ayyidatul, et al. (2021). Aplikasi Integral Untuk Membuktikan Rumus Keliling Lingkaran. EULER Jurnal Ilmiah Matematika, Sains, dan Teknologi Vol. 9. Hal 17-23. http://ejurnal.ung.ac.id/index.php/Euler
Irwan, Muh., Darmiani, Jalil, E. (2021). Penerapan Integral Lipat Dua Dalam Penentuan Volume Permukaan Kuadratis. Jurnal Matematika dan Statistika serta Aplikasinya Vol.9 No.1.
Mallala, Syamsudin. (2021). Pembelajaran Integral dengan Menggunakan Visual Basic 6.0 di SMK Farmasi Tenggarong. Jurnal Informatika.
Mariko, Selli. (2019). Aplikasi Website Berbasis HTML dan Javascript Untuk Menyelesaikan Fungsi Integral Pada Mata Kuliah Kalkulus. Jurnal Inovasi Teknologi Pendidikan Volume 6, No 1 April 2019 (80-91).
Rimo, IHE. (2018). Analisis Kesulitan Mahasiswa Pendidikan Fisika FKIP-UNDANA Dalam Memahami Materi Volume Benda Putar. https://ejournal.unitomo.ac.id/index.php/mipa. ISSN cetak 2337-9421. ISSN online 2581-1290.
Savitri, Eka Anis. (2015). Analisis Materi Volume Benda Putar Pada Aplikasi Cara Kerja Piston Di Mesin Kendaraan Roda Dua, Al-Jabar: Jurnal Pendidikan Matematika Vol.6, No.2, hal.177-182.
Shkolnisky, Yoel. (2007). Prolate spheroidal wave function on a disc-Integration and approximation of two-dimensional bandlimited function. Elsevier : Applied Computational Harmonic Analysis. Pp. 235-256.
Suroso, (2021). Penerapan Integral Untuk Menghitung Titik Berat Dan Momen Inersia Suatu Bidang Dan Volume Benda Putar, Jurusan Teknik Sipil, Politeknik Negeri Semarang.
Varberg, Purcell, and Rigdom. (2007). Calculus 9th Edition, Jakarta : Penerbit Erlangga.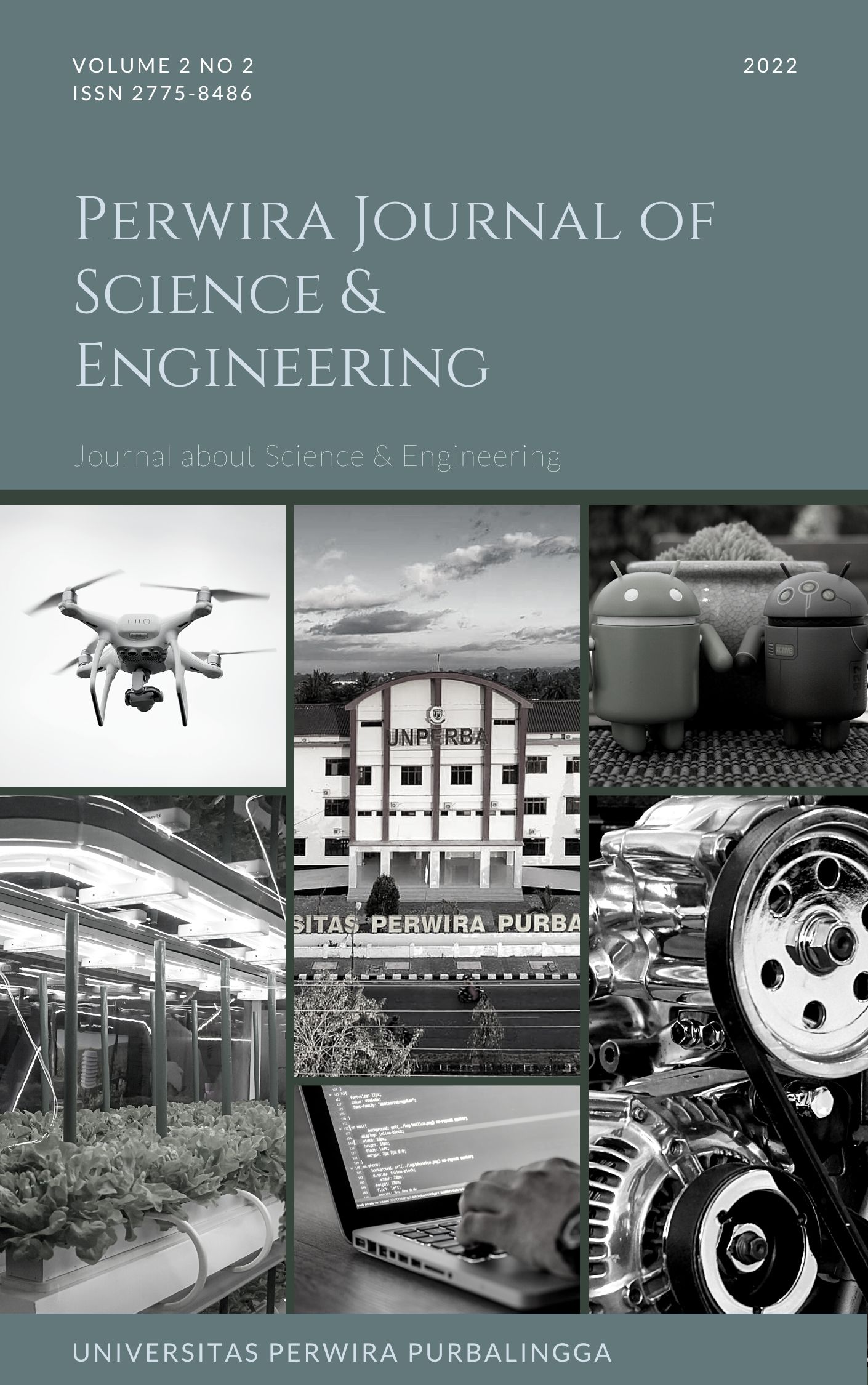 Unduhan
Lisensi
Hak Cipta (c) 2022 Universitas Perwira Purbalingga
Artikel ini berlisensiCreative Commons Attribution-NonCommercial-ShareAlike 4.0 International License.