PENGARUH KEPUASAN KERJA TERHADAP ORGANIZATIONAL CITIZENSHIP BEHAVIOR (OCB) ISLAM
Kata Kunci:
Organizational citizenship behavior, OCB Islam, kepuasan kerja
Abstrak
Kesuksesan sebuah perusahaan ditentukan oleh pegawainya. Karena pegawai merupakan faktor yang sangat penting untuk mencapai tujuan perusahaan. Suksesnya sebuah perusahaan tercapai apabila perusahaan tersebut mempunyai pegawai yang memiliki perilaku in-role dan perilaku extra-role. Perilaku in-role harus dilakukan seorang pegawai agar dalam bekerja sesuai dengan job deskripsi pekerjaan yang diberikan. Sedangkan perilaku extra-role tidak harus dilakukan oleh pegawai namun, apabila dilakukan dapat memberikan manfaat kepada perusahaan. Diantara perilaku extra-role yaitu Organizational Citizenship Behavior (OCB). OCB dapat muncul apabila seorang pegawai mempunyai kepuasan dalam bekerja, baik puas secara lahir maupun secara kepuasan batin. Penelitian ini bertujuan untuk mengetahui pengaruh kepuasan kerja terhadap organizational citizenship behavior (OCB) Islam. Penelitian ini merupakan penelitian kuantitatif explanatory research dengan metode pengambilan sampel sampling jenuh. Lokasi penelitian di BMT Maslahah dengan populasi Sampel sebanyak 46 pegawai dan semuanya menjadi sampel pada penelitian ini. Metode analisis menggunakan SEM-PLS dengan alat analisis menggunakan software WarPLS 3.0. dari hasil penelitian ini dapat disimpulkan bahwa kepuasan kerja berpengaruh terhadap OCB Islam.
Referensi
Alquddus Al-qur'an Terjemahan. 2021. Penerbit Menara Kudus: Kudus.
Alsheikh, Ghaith and Sobihah, Mutia Abd Alhlim. 2019. Effect of Behavioral Variables on Organizational Citizenship Behavior (OCB), with Job Satisfaction as Moderating among Jordania Five Star Hotels: A Pilot Study. International Journal Ethics and Sistems. https://www.emerald.com/insight/content/doi/10.1108/IJOES-01-2019-0001/full/html .
Cun, Xiaogang. 2012. Public service motivation and job satisfaction, organizational citizenship behavior: an empirical study based on the sample of employees in Guangzhou public sectors. Chinese management studies, Volume 6, Number 2, 2012, pp. 330-340 (11). https://doi.org/10.1108/17506141211236758.
Harnoto, Harnoto and Hidayah, Siti. 2018. Role of organizational citizenship behavior (OCB), perception of justice and job satisfaction on employee performance. Jurnal Dinamika Manajemen (JDM) Vol. 9, No. 2 (2018).
Harper, Pamelaa, J. 2015. Exploring forms of organizational citizenship behaviors (OCB): antecedents and outcomes. Journal of Management and Marketing Research Volume 18- February, 2015.
Harvey, J., Bolino, M.C. and Kelemen, T.K. (2018). Organizational Citizenship Behavior in the 21st Century: How Might Going the Extra Mile Look Different at the Start of the New Millennium. Buckley, M.R., Wheeler, A.R. and Halbesleben, J.R.B. (Ed.) Research in Personnel and Human Resources Management (Research in Personnel and Human Resources Management, Vol. 36), Emerald Publishing Limited, Bingley, pp. 51-110. https://doi.org/10.1108/S0742-730120180000036002.
Hasan, Farid Nu'man. 2021. Syarah Hadits Arba'in An-Nawawi. Gramedia: Jakarta.
Indarti, Sri; Solimun; Fernandes, Adji Achmad Rinaldo and Hakim, Wardhani. 2017. The effect of OCB in relationship between personality, organizational commitment and job satisfaction on performance. Journal of management development Vol. 36 No. 10, pp 1283-1293. https://doi.org/10.1108/JMD-11-2016-0250.
Jung, H.S., and Yoon, H.H. 2015. The impact of employees' positive psychological Capital on Job Satisfaction and Organizational Citizenship Behaviors in the Hotel. International Journal of Contemporary Hospitality Management, 27(6), 1135-1156.
Kim, Sangmook. 2006. Public Service Motivation And Organizational Citizenship Behavior In Korea. International Journal of Manpower Vol. 27 No. 8, 2006 pp. 722-740.
Murphy, Gregory; Athanasou, James and King, Neville. 2002. Job Satisfaction among Organizational citizenship behavior: A study of Australian Human-service Professionals. Journal of managerial psychology, vol. 17 no. 4, pp. 287-297. https://doi.org/10.1108/02683940210428092.
Diana, Ilfi Nur. 2012. OCB dalam Islam. Jurnal Ilmu Ekonomi dan Sosial, Jilid 1, Nomor 2, November 2012, hlm.141- 148.
Obedgiu, Vincent; bagire, Vincent; mafabi, Samuel. 2017. Examination of organizational commitment and organizational citizenship behavior among local government civil servants in Uganda. Journal of management development 36(1):0-0. DOI:10.1108/JMD-12-2016-0279.
Organ, D.W. 1997. Organizational Citizenship Behavior: It's Construct Clean-Up Time. Human Performance, 10(2), 85-97.
Podsakof, Philip M., MacKenzie, Scott, B., Paine, Julie Beth., Bachrach, Daniel, G. 2000. OCB: Critical Review of the Theoritical and Empirical Literature and Suggestions for Future Research. Journal of Management 2000 volume 26 No. 3.
Podsakoff, N. P., Whiting, S. W., Podsakoff, P. M., & Blume, B. D. (2009). Individual and Organizational-Level Consequences of Organizational Citizenship Behaviors: a Meta-Analysis. Journal of Applied Psychology, 94(1), 122.
Singh, sanjay Kumar dan Sing, Ajai Pratap. 2018. Interplay of organizational justice, phsycological empowerment, organizational citizenship Behavior, and job satisfaction in the context of circular economy. Emerald publishing limited Vol. 57 No. 4, pp. 937-952. https://doi.org/10.1108/MD-09-2018-0966.
Sloat; C M, Kim. 1999. Organizational citizenship: Does Your Firm Inspire employees to be "good Citizens"?. Des Plaines Vol 44 Iss. 4 (Apr 1999):20-23.
Solihin, Mahfud dan Ratmono, Dwi. 2013. Analisis SEM-PLS dengan WarpPLS 3.0 untuk Hubungan Nonlinier dalam Penelitian Sosial dan Bisnis. Yogyakarta: Penerbit Andi.
Torlak, nuri Gökhan; Kuzey, Cemil; Dinc, Muhammet Sait dan Budur, Taylan. 2020. Links connecting nurses' planned behavior, burnout, job satisfaction and organizational citizenship behavior. Journal of Workplace Behavioral Health 36(1):77-103 DOI:10.1080/15555240.2020.1862675.
Wibowo, Ugung D.A., Iskandar, Tb. Zulrizka, and Prathama, A. Gimmy. 2013. Organizational Commitment as Mediator of Antecendents of Organizational Citizenship Behavior in Sharia Organization. International Conference on Economics, Education and Humanities (ICEEH'14) Dec. 10-11, 2014 Bali (Indonesia).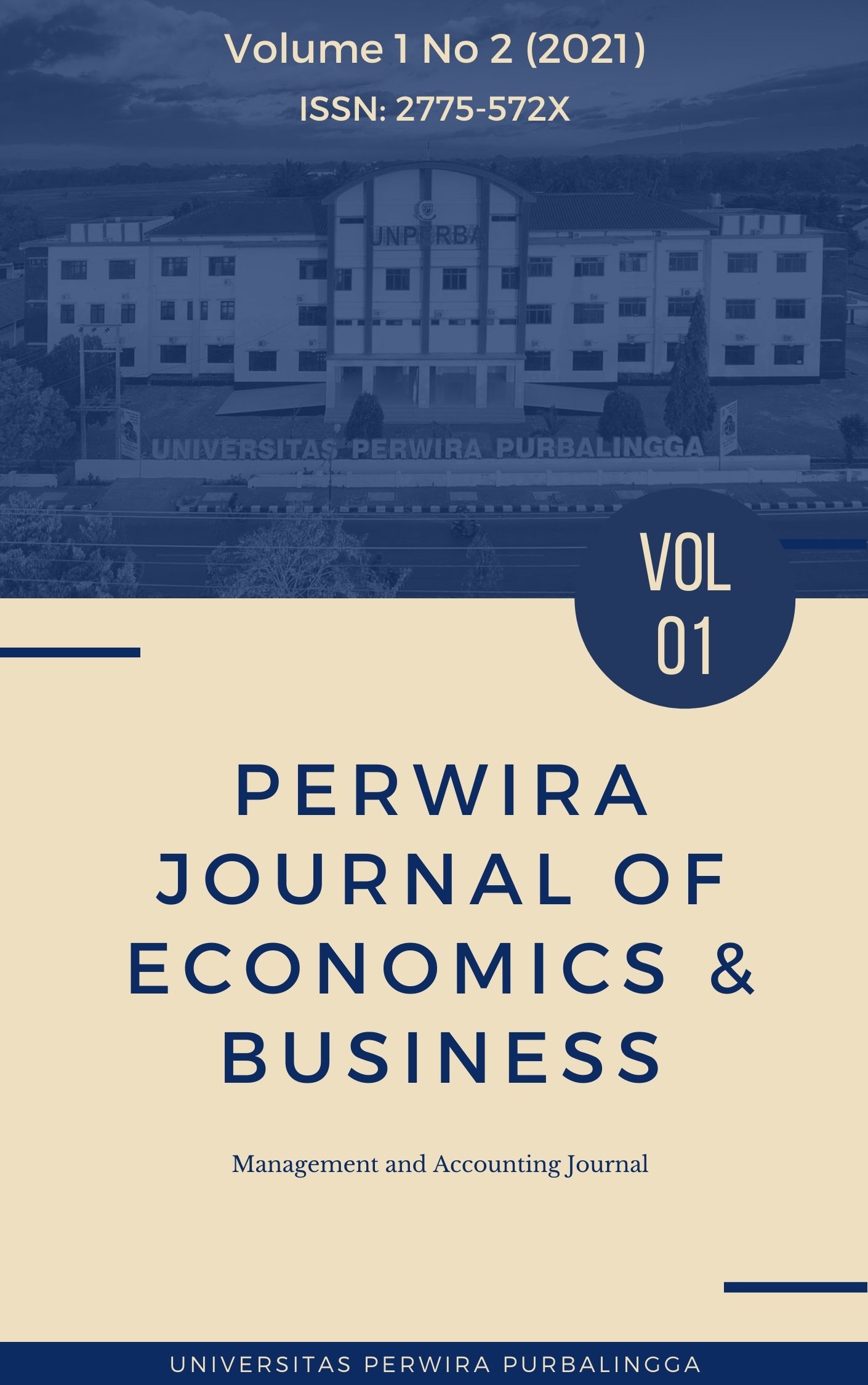 Unduhan
Cara Mengutip
Yulianto, N. A. B. (2021). PENGARUH KEPUASAN KERJA TERHADAP ORGANIZATIONAL CITIZENSHIP BEHAVIOR (OCB) ISLAM. Perwira Journal of Economics &Amp; Business, 1(2), 41–47. https://doi.org/10.54199/pjeb.v1i2.51
Lisensi
Hak Cipta (c) 2021 Universitas Perwira Purbalingga
Artikel ini berlisensiCreative Commons Attribution-NonCommercial-ShareAlike 4.0 International License.